Crypto Buy and Sell Made Easy
Bank transfers, or how I learned to stop worrying and turn fiat into crypto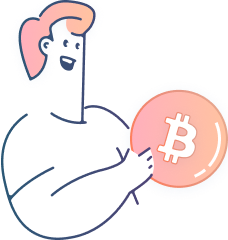 The very next thing on our list is bank transfers. They will help you transfer fiat in and out of your Cryptopay account in the blink of an eye.
Let's take a look.
Bank deposits
This one consists of 2 steps. First, you activate your personal Sort code and Account number and make a free Faster Payment to your Cryptopay account using these details. Super easy, just like any other bank deposit. Also instant, like the very best of them.
Second, you exchange pounds for BTC. Or ETH. Or USDT. Or any other coin you fancy. That's also instant and cheaper than your regular card deposit (it's only fair that we reward the hassle, right?). Congratulations, you just bought yourself some crypto.
Bank withdrawals
So, you have some crypto on your Cryptopay wallet and you want to convert it to pounds. How would you go about it?
First, you'll need to link a personal bank account and verify it. To do it, make an instant deposit from it (you can withdraw the whole amount right away). Voilà, now you can instantly withdraw crypto to your bank account any time you want.
---
---